Razer's keyboards have been the gold standard for gaming and the Razer BlackWidow Chroma takes what has worked before and expands upon it. Due to the success of the V1, Razer has since released a BlackWidow Chroma V2 that we'll take a look at in another review. But for now, we bring you the Razer BlackWidow Chroma V1.
Razer BlackWidow Chroma Overview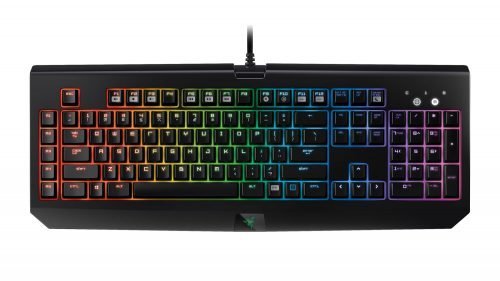 Technology: Green/Orange Razer switches, 10-key rollover
Connectivity: USB pass-through, Audio/Mic 3.5mm jacks
Features: 5+ programmable buttons, Chroma backlighting (16.8M colors)
MSRP: $169.99
Manufacturer Link: https://www.razerzone.com
Rating: 

Features
RGB LED lights have been a trend for a little while now. This has led to a shift for the Razer Blackwidow Chroma, offering up a ton of lighting setups for the end user. Its high level of customization allows you to change things up and tailor everything by the game, or just stick to an alternating light design. The lights look nice and the white base makes the lights seem brighter. This also allowing the colors to blend together better.
Five macro keys are featured on the far left-hand side to make things easier on the user. This comes in handy if you want to set a button to open up FRAPS for recording. For example, you can have one button open up Steam, another open up Origin, and yet another open up Uplay. The all-plastic design features a matte finish along with two feet on the front and five on the back to give it some height while the rubberized grip prevents it from moving around. Additionally, the right hand side gives you ports for a headphone jack, microphone jack, and a USB port.
Software
The software side of things is fairly robust thanks to Razer Snaps 2.0. This easy-to-use software allows you to customize the LED lighting on the keyboard for each individual key.  Moreover, you can also have it alternate between colors, stay in one area, or customize lighting setups for certain games. If you're playing an FPS and want the WASD keys in a blood-red configuration, you can do that with ease. Genre color templates allow you to pick between MMOs, MOBAs, FPSes, and RTSes. Also, game-specific setups are included for DOTA 2, League of Legends, Counter-Strike: GO and StarCraft II.
Design
The Razer BlackWidow Chroma's mechanical switches have always been designed for gaming, but beyond just pure gaming use, the keys themselves are comfortable for regular typing. Those annoyed by clicks will want to avoid mechanical switches in general, but over time, it is something you get used to. For those looking to game while also doing live streams may want to take it easy on the keys just to avoid your viewers hearing every single keystroke. The overall build quality is fantastic, with a smudge-free top cover on it and a thick braided cable to hook it up to your PC. This cable shouldn't fray on you and is designed to last for quite some time – which is to be expected from a high-end gaming keyboard.
Product Images
Conclusion
Razer's gamer-first mentality allows the BlackWidow Chroma to stand tall as a high-end gaming keyboard. Their user-friendly software is intuitive even for those new to customizing a keyboard's lighting setup. After just a few minutes, you'll get the hang of everything and be able to adjust settings quickly. It's a comfortable keyboard for even long play sessions, and contains enough features to make it a great long-term investment. Whether buying as your first gaming keyboard or to simply grow your collection, the BlackWidow Chroma is a solid choice.
New V2 Model Available
Razer has since updated the BlackWidow Chroma V1 and replaced it with V2. Their new version has a few small changes. For example, they changed from a 3.5mm jack to a 2.5mm audio input jack. Another major change is the inclusion of a built-in wrist rest. Lastly, a revamped font on the keys make them easier to read. While the wrist rest increases the footprint slightly, the other small improvements are hardly noticeable. Because you can pick up the V2 for the same price as the V1, you might spring for the latest revision. However, you are likely to find a better price on the V1 if the added features aren't something you're concerned with.